The League of Women Voters of Great Bend is a grassroots organization advocating for informed and engaged voters. All citizens of voting age, both men and women, are welcome to join as members.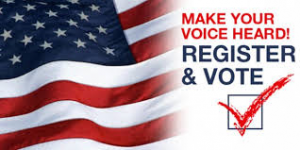 Consider becoming a member today! Your membership provides support for the efforts and mission of League, and you'll receive updates not only from LWV of Great Bend, but also timely announcements from the state and national Leagues. You'll also get the Kansas Voter and the local newsletter in addition to getting the latest on issues related to voting, voter registration, and access to voting. And here's more for you to know … 
---
Election &Voting Dates
October 17th:Last day to register before general election
October 18th- Nov. 6: Noon-Advance voting in Person
October 31: Deadline to request mail-in Ballot:3 days after Election.
November 7th: General Election Polls Open 7a.m. to 7p.m.
---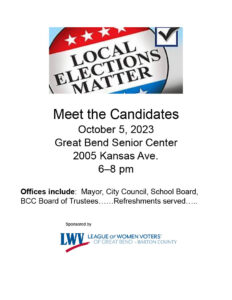 Meet the Candidates
October 5, 2023
Great Bend Senior Center
2005 Kansas Ave.
6–8 pm
Offices include
:  Mayor, City Council, School Board,
BCC Board of Trustees……Refreshments served…..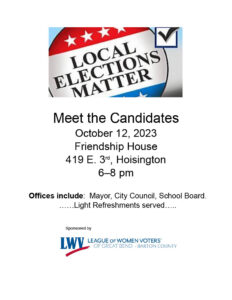 Meet the Candidates
October 12, 2023
Friendship House
419 E. 3
rd
, Hoisington
6–8 pm
Offices include
:  Mayor, City Council, School Board.
……Light Refreshments served…..
---
Mary Frances Hogg was honored for her 50+ years of service with the League of Women Voters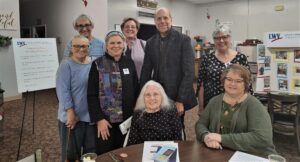 at their membership meeting on February 7, 2023, at the Great Bend Senior Center. She has been a member of both the Great Bend and Salina LWV and held various officer positions. With family and League members in attendance President, Janice Walker recounted some of her past milestones. She and her husband, Wilbur Hogg Sr. lived in Ellinwood most of their married life where they raised sons Dale and Jonathan. They met while attending Kansas Wesleyan University in Salina.
While Mr. Hogg taught the Ellinwood high school for over 40 years, Mary Frances taught in the elementary school and worked as a librarian. Both Wilbur and Mary earned their master's degrees from Emporia State Teachers College. Mary Frances was a math major with a masters degree in library science. For 26 years she was the reference librarian at what was then Barton
County Community Junior College, retiring in 1995. After retirement the couple was active with
the Ellinwood High School Latin Club, traveling across the United States and Canada as
chaperones for Latin Club conventions.
At 87 years of age, Mary Francis moved to the Brookdale assisted living home several months
ago from Salina. Family members recounted that their mother supported many social justice
causes from protesting the war with nuns at the Schilling Air Force Base in Salina to fighting for
LGBTQ rights. The League thanks Mary Frances for her time and energy in making the world
around her a kinder place to live.
---
Our League President Janice Walker and Board member Jan Stice attended League day on February 14th at the State Capital at Topeka. Click here to see who and what she found out.
---
Speaking up for our community
The following are among the many important issues LWV of Great Bend has supported in the past:
Establishing Barton College
Improving physical education in elementary schools
Adopting flood control measures in our area
Establishing 911 service in Barton County
Increasing the number of county commissioners to five
Promoting a more diverse judiciary in Kansas
If any of these issues appeal to you, we would love to have you join LWV of Great Bend today!
---
Our mission
The League of Women Voters, a nonpartisan political organization, encourages informed and active participation in government, works to increase understanding of major public policy issues, and influences public policy through education and advocacy.